Mobile Wheel Lathes 1AK200, 1AK200 ZIP, 1AK200 Compact, 1AK200 TURBO
Mobile and portable wheel lathes for re-turning (re-profiling) locomotive and railcar wheels on the spot
Manufacturer:

RUSSO-BALT KG (Reg. nr. 16021524), A. Puskini tn 20, Narva, 20307, ESTONIA

Phone + 372 58 145 072, +372 56 108 206

E-mail: info@railwaywheelturninglathe.com / info@1ak200.com

Manufacturing time FOB Tallinn or Narva, Estonia - 3 months after payment.
Payment 50% advance upon order placement and 50% in 2 weeks before shipment.
Delivery by DHL sea, air or ground worldwide.
Price list for 1AK200 mobile/portable wheel lathes - 1AK200 Price List 2022
Yes, we can make custom portable wheel lathes and wheel rotation units too!


1AK200 wheel lathe patents and awards




Estonian patent
2002

Russian patent
2003

Geneva Gold Medal
2003

Moscow Archimed Gold Medal 2003

Brussels-Eureka Gold Medal 2002

Video of Mobile wheel lathe machine 1AK200


Price 33600.00 EUR EXW Narva, Estonia.
Total weight about 550 kg.
Manufacturing time FOB/FCA Narva or Tallinn, Estonia: 3 months after payment.



Portable wheel lathe "1AK200 COMPACT"


Price 19800.00 EUR EXW Narva, Estonia.
Weight about 100 kg. Manufacturing time (FOB/FCA Narva or Tallinn, Estonia):
3 months after payment.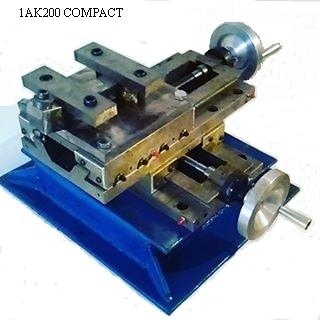 Please note:
we can also make custom portable wheel lathe and wheelset rotation unit
depending of locomotive or railcar model.

Locomotive Wheel Lathe "1AK200 ZIP"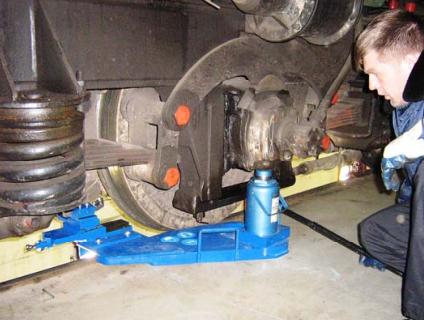 Portable wheel lathe 1AK200 ZIP intended for TEM2, TMG-4, TMG-6 and similar type of locomotives and also will be made for other locomotive models depending on the customer needs.

Download PDF flyer - Portable locomotive wheel lathe 1AK200 ZIP

Price 19200.00 EUR EXW Narva, Estonia.
Manufacturing time (FOB Narva or Tallinn, Estonia):
3 months after payment.

| | |
| --- | --- |
| | The 1AK200 mobile device for elimination of wheelset defects consists of two support bodies, two lifting jacks, turning module, wheelset rotation module with variable frequency drive, two transport trolleys, electric cables, and necessary tools set. The device is portable and simple to operate, increases the wheel turning process and removes wheelset defects, extends rolling stock service time. |

Description

The mobile wheel lathes 1AK200 is designed for rail transport, for wheels of locomotives, motor and freight wagons, in particular, it can be used for fast elimination of some wheel defects, which appear while wheels in service, like sharp flanges, worn spots, shelling, unnecessary wear spots, brake fade, etc..

Moreover, an experienced machinist with portable wheel lathe 1AK200 COMPACT and suitable turning inserts using measurement gauges can do locomotive or wagon wheels machining right on the spot, which saves time and money.
Usually for elimination of rolling stock wheel defects during depot maintenance requires rolling out wheelset from under the wagon or locomotive with the help of wheel-lifting devices.
In this case each wheel will be re-turned separately on a stationary wheel lathe machine.
The 1AK200 mobile and portable wheel lathes intended for elimination of some common defects in rolling stock, without rolling out wheelsets from under the rolling stock, wheel repair can be done while locomotive or wagon stay on the rails.
Thanks to small weight and portability 1AK200 wheel lathes can be used everywhere, where an asphalt or concrete lot is available at the level of railhead, and for machining of locomotive wheels an additional pit stock is recommended.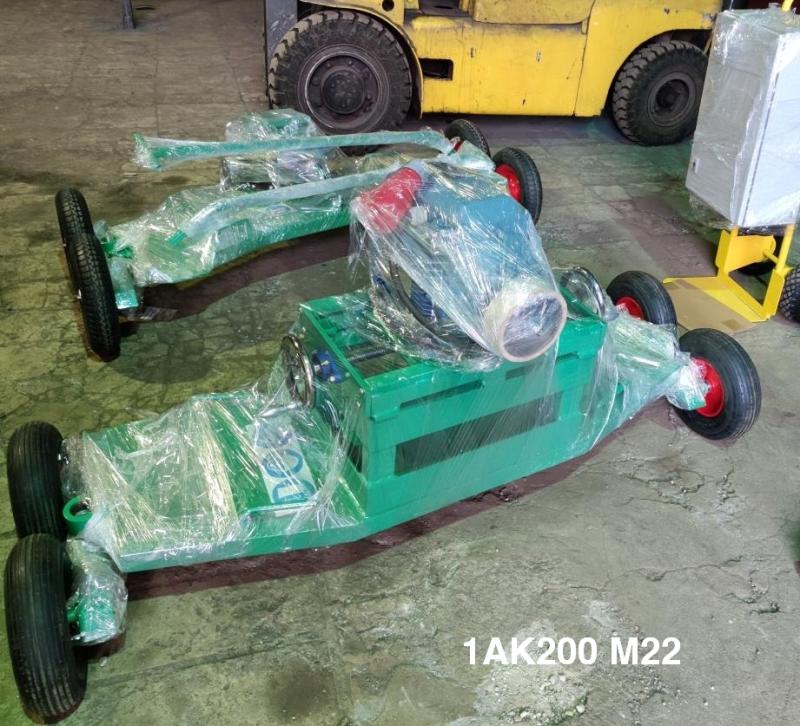 The assignment of the 1AK200 wheel turning device is to extend wheel service time, reducing rolling stock maintenance time. Technical result of lathe use is - elimination of wheel defects (sharp flanges, worn spots, shelling, unnecessary wear spots, brake fade, etc).
How 1AK200 mobile wheel lathes work:
The rail car or wagon must be locked with rail stops. The wheelset preliminary should be lifted and leveled against the rail head by 15-25 mm with help of two hydraulic jacks of 30t lifting capacity.
Jacks is placed on the turning support and wheel rotation unit body and also serves for its fixation.
400V power supply is applied to the wheel rotation unit WRD-380 if wagon wheels will be machined.
Operator can set optimal wheelset rotation speed at 20-25 RPM by using cable or Wi-Fi remote (recommended machining speed depending of turning inserts used is 50-100 meters/min).
The operator is moving tool holder with turning insert to wheel surface and turning process starts.
The machined wheel surface is checked by a locomotive or wagon profile gauge.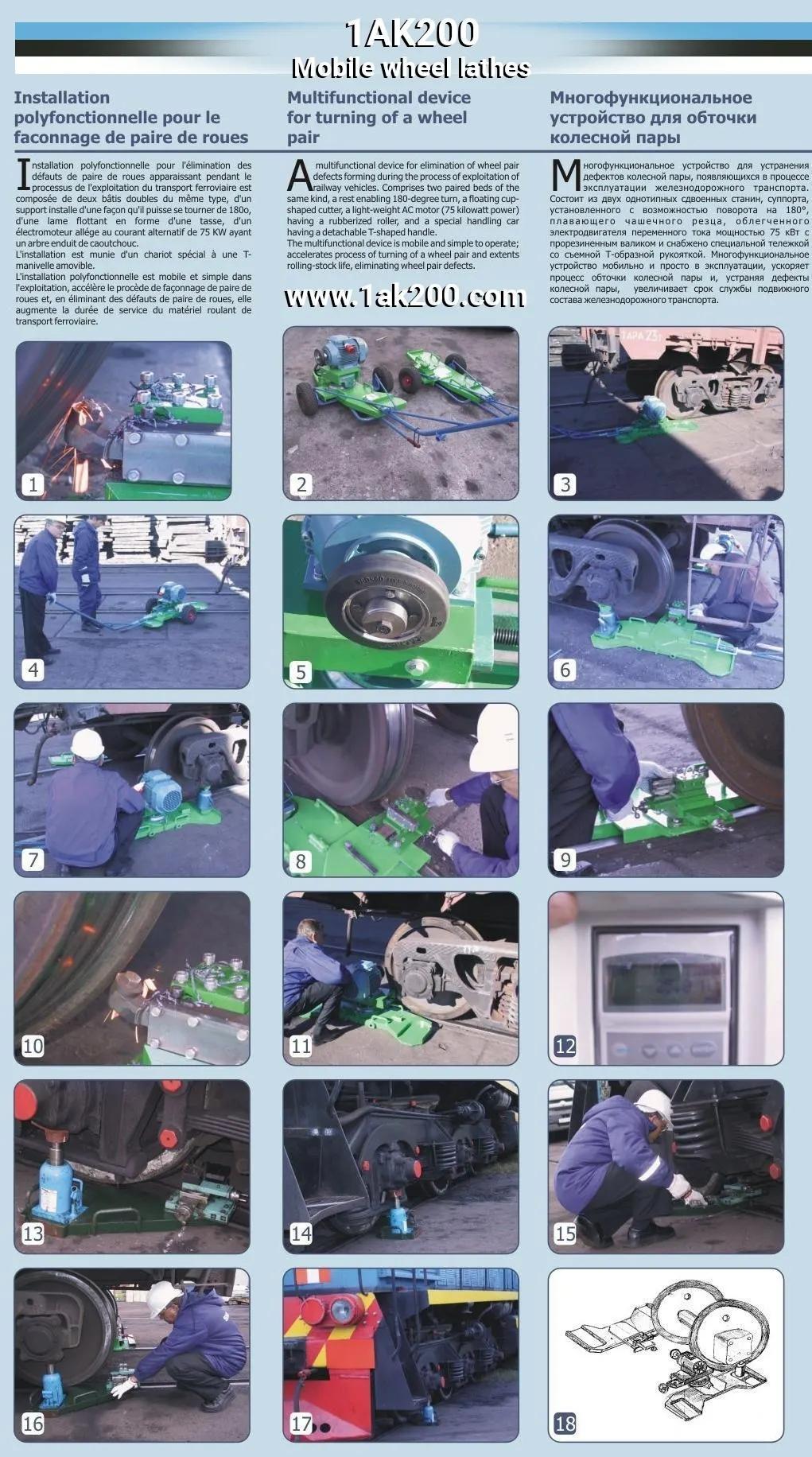 Before turning job locomotive or railcar (wagon) must be fixed by using railcar wheel stops.
If locomotive wheels will be turned - in some models locomotive battery can be used as the power supply source for wheelset rotation (locomotive TEM-2, for example).
On TEM-2 locomotive voltage is tapped off the battery by a portable copper cable of 40 mm2 and applied to turned wheelset traction motor or by request can be used special portable locomotive wheel rotator "WRD-380L" manufactured by request, depending of locomotive model.
Stand with machining module is placed under the wheel being turned.
Locomotive wheel rotation unit placed under the opposite side of the wheelset.
One jack is placed on the surface of the stand with machining module, another - at the rotation unit body.
The jacks are the works like fixing link between the turning support and rotation unit against the machined wheelset.
Wheelset preliminary should be lifted by two 30 ton lifting capacity hydraulic jack and leveled against rail head by 15-25 mm.
With the aid of the variable speed frequency drive the speed of rubber friction wheel of WRD-380 wheelset rotation unit must be set to minimal possible ~ 0-10RPM.
According to the principle of friction gear the wheel rotation unit WRD-380 roller is brought to contact with the wheel tread, the operator via frequency drive smoothly increases the roller rotation speed and the rotation rate of the wheel turned is brought up to 20-25 RPM.
The tool holder with the suitable turning insert is moving to the surface turned and the turning process starts.
The processed surface is checked by the profile gauge.
The further turning process is identical to the previous one.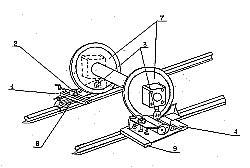 The mobile wheel turning device 1AK200 consists of six major elements - turning module (1), wheel rotation module (4), variable speed frequency drive (6), power supply (5) and two hydraulic jacks (3).
Machining module consists of two slides for moving the cutter and its holder (2) parallel and perpendicular the axle of the wheelset turned and the body.
The standard wheel rotation unit consists of a 7.5 kW/400V electric motor with rotation rate n = 1500 PM, transmitting the rotation moment to the wheel and mechanisms regulating the binding power between the roller and the wheel and the body.
The variable speed frequency drive power is 11 kW.
Application of 1AK200 mobile and portable wheel lathes enables simultaneous performing of wheel machining and locomotive/wagon maintenance, which ensures rail traffic safety and reduces maintenance time of the rolling stock.
THE FORMULA OF USEFUL MODEL

1.The 1AK200 mobile wheel lathe for machining railway rolling stock wheels, which contains with machining module with tool holder and cutting insert and wheelset rotation unit, is notable because no need to roll out the wheelset from under the rolling stock and the wheelset is machined on the spot thanks to 1AK200 lathes portable design.
2.The device described in p.1. is notable for use of locomotive battery as a power supply for wheel turning.
SUMMARY

Mobile device 1AK200 for turning rail rolling stock wheels.
It is intended for elimination of some wheel defects, which appear while in service.
Assignment - extension of wheel service time, reduction of rolling stock out-of-service time.
Technical result - elimination of sharp flange, worn spots, shelling, unnecessary wear spots, brake fade, etc.
The defects are eliminated without rolling wheelsets out from under the loaded rolling stock, which reduces delay time and improves traffic safety.
The 1AK200 mobile wheel device consists of a two stands with machining module, wheelset rotation unit, frequency drive, two transport trolleys, and two jacks.
Contact us: RUSSO-BALT KG, A. Puskini tn 20, Narva, 20307, ESTONIA.

Phone + 372 58 145 072

E-mail: info@railwaywheelturninglathe.com / info@1ak200.com

Contact us for more info